Report Automation for Google Docs

An Advanced Report Writing Platform
StartDeck is a world-class report writing platform with features designed specifically for Google Docs. StartDeck's automation brings together templates, docs, sheets, forms, fields, and maps to build fast, consistent and compliant reports. Further, we integrate esignatures, tracking, and delivery. Files are organized, indexed, and tagged for quickly sorting and searching templates and documents. Finally, we close the workflow with file archiving.
Features For Teams
StartDeck makes it easy to organize teams with centralized templates and projects, workflow transparency, and shared resources. On-board new team members with just their email, the rest is automated. Team roster management is self-serve: add and remove team members as needed (we prorate monthly subscriptions to the day) while all files remain on your Google Drive.
---
About The StartDeck Platform
StartDeck is based on a new breed of software known as Progressive Web Apps. PWAs are lightweight, fast, and run on all your mobile devices and desktop. PWAs are supported by Google, Microsoft, and Apple. This broad level of support frees users to work on the device and OS of their choice.
StartDeck is built on the Google platform. From authenticating users, to secure and redundant file storage, to secure and reliable automation services across all your devices and operating platforms. Durability and reliability are built-in.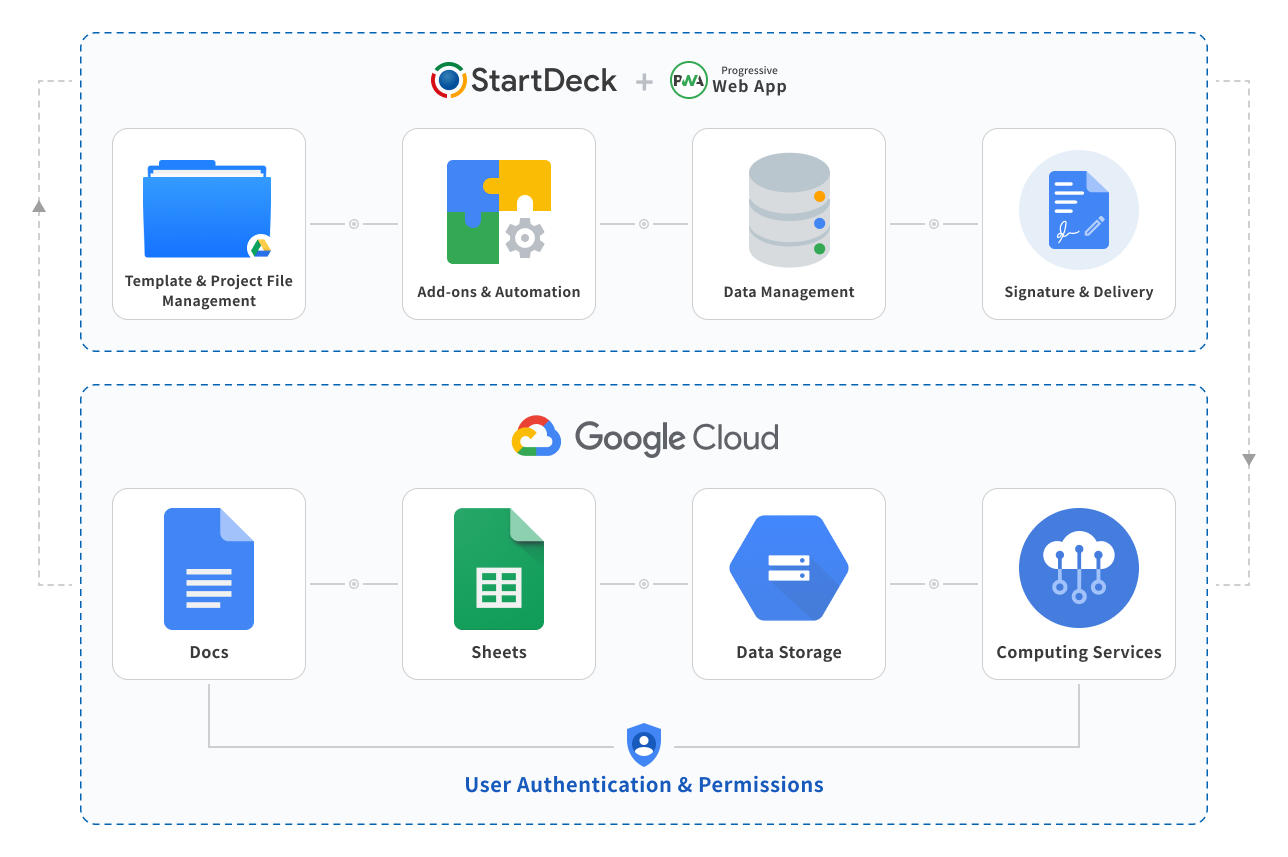 What happens for you:
Software automation and computing services are delivered to your device from Google's cloud - reliable and scalable.
All your templates, work files, and data are stored on your Google Drive.
All your templates, work files, and data are backed up across multiple locations, including multiple versions of your files over time.
What you do:
Create high-quality work files on the device and OS of your choice.
Empower workers to build templates and workflows.
Build templates and automated workflows without IT.
Iterate quickly and improve the platform without IT.
Easily onboard workers without IT, scale workers up or down as needed with no loss of data.
What you don't do
Set up file and database servers, maintain backups and disaster recovery systems.
Maintain long-term software service contracts that are difficult to adjust.
Hand over mission-critical files and data to 3rd party services.
Engage professional services for template and database work.
Install and maintain software on multiple devices.
Work through an IT department to provision templates and automation.
Lose control over workflow preferences, file storage, and access.
---
About Tom Armstrong, StartDeck Founder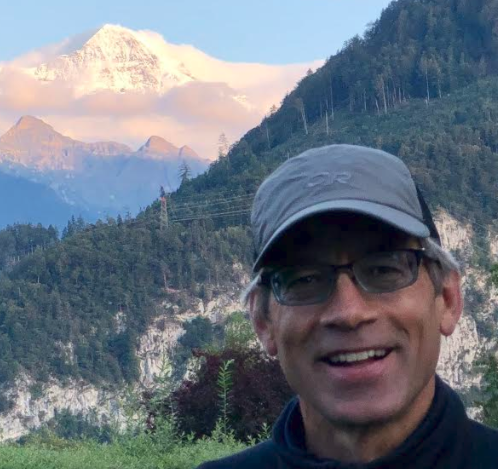 My Experience in the Due Diligence Software Industry
I trained as a commercial appraiser while earning my degree and MAI designation from the Appraisal Institute back in 1992. Typical of the time, I joined my family's real estate brokerage and appraisal practice. We built the appraisal firm up to 12 appraisers with a focus on conservation easement appraisals throughout the Lakes Region and White Mountain National Forest in New Hampshire.
Following my interest in computers and automation, I built @Value Appraisal Software. Using a combination of Microsoft Word and Excel templates, this was one of the first products introduced for commercial appraisal and ultimately was acquired in 2004 by one of the largest appraisal firms in the US at the time. Seventeen years later(!), the product is still in service with several hundred daily users.
@Value was followed up with a new more advanced platform known as Narrative1 - again built with Microsoft Word and Excel Add-ons and a Microsoft SQL Server back-end supporting a properties database with 13 major property types.
The timing was good - the market was increasingly interested in new report automation technologies. The N1 product was well designed with a full set of features and high-quality content.
In time we counted many of the largest US appraisal companies, county governments, and the largest bank in the US as our customers. N1 truly became a leader in the evolution of the commercial appraisal software industry and to this day commands the largest market share in this unique niche. This was a bootstrap effort with no debt or outside investment.
Enter Spectrum Equity, looking to acquire ExactBid, the leading commercial appraisal due diligence platform used by banks to process appraisal work. Spectrum approached N1 with the idea that it would be a good fit to combine the two businesses and acquired N1 in 2015.
Interestingly, the N1 product was built on top of MS Office, but we ran our software business on G Suite. The simplicity and smooth functionality of G Suite was a lifesaver for us and we used the platform heavily!
Other
I live with my now extended family in rural central NH. When I'm not working on StartDeck I enjoy rock climbing, cycling, and skate-skiing.
One degree of separation fun fact: My daughters' great grandfather was John Mauchly, co-inventor of the ENIAC. What are the odds?